Seminars with theory-practice transfer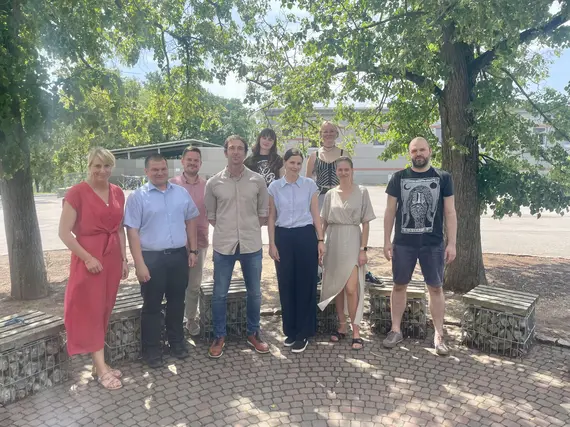 Students of the seminar "What's in a (Pop) Song? Linguistics meets Language Education" try out their song lessons
How can songs be used in English lessons? Research has shown that songs have enormous motivational potential for students. They also offer numerous options for developing different skills in English lessons. Therefore, Theresa Summer and Valentin Werner developed the interdisciplinary seminar "What's in a (Pop) Song? Linguistics meets Language Education".
In order to establish direct practical relevance, students visited the Werner-von-Siemens-Realschule Bad Neustadt an der Saale on June 21, 2023 in cooperation with the teacher Nicole Gumbrecht, who works there and at the University of Bamberg. The students were able to try out their own song lessons. Pupils from different grades and classes learned for example about Pride Month with the help of Macklemore's song "Same Love", dealt with behaving respectfully with "Riot Van" by the Arctic Monkeys, reflected on what makes us human based on the song "Human" by Rag'n'Bone Man and complimented each other based on the song "If I Were a Fish" by Corook. The university students then reflected on the success and implementation of their lessons based on their experiences and the feedback they received from the lecturers and teachers. According to the students, visiting the school was a valuable hands-on experience and they were very grateful for the opportunity to try out the knowledge they had learned in the seminar. Overall, the exchange between university and school was very beneficial.
The Department of English language education would like to thank the school management, especially RSD Thomas Schlereth, the English teaching staff of the Realschule Bad Neustadt and the open-minded pupils.