SOPHIA (Senior Occupation after Profession: Habit Intriguing Adults) - ICT‐based solutions for supporting occupation in life of older adults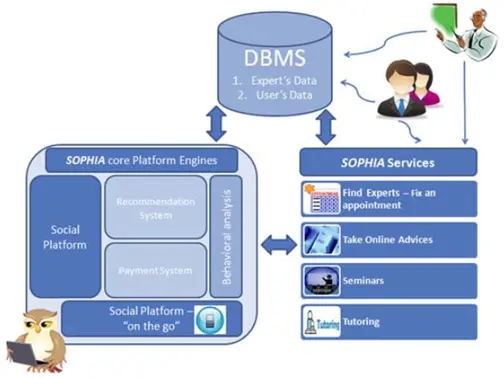 SOPHIA comes from the Greek word "Σοφία" that means wisdom. It aims to create a network the core of which will be senior adults after retirement who would like to continue offering their skills. Some of the network branches will be companies and enterprises that would require knowledge and expertise of the seniors, or individuals who could use their help. This network will bring in contact the senior adults with the above people and handle all kinds of possible transaction they may have, in a friendly and efficient environment.
Partners
Geolmaging Ltd
Ingeniería Y Soluciones Informáticas S.L.
Stefan University of Bamberg, Department of General Psychology and Methodology
Association of Social Institutions of Slovenia
Infokom GmbH
Ilumya Ltd
Wellness Telecom S.L.
Funding
EU Joint Programming: Ambient Assisted Living (AAL; Call 6); project sum: 1,000,420.00 €
Publications
Carbon, C. C. (2015). Predicting preferences for innovative design: The "Repeated Evaluation Technique" (RET). GfK Marketing Intelligence Review, 7(2), 34-39. doi: 10.1515/gfkmir-2015-0016
Carbon, C. C. (2016). Integration of user-centric psychological and neuroscience perspectives in experimental design research. In P. Cash, T. Stanković & M. Storga (Eds.), Experimental Design Research: Springer.
Planinc, R., Kampel, M., Ortlieb, S., & Carbon, C. C. (2013). User-centered design and evaluation of an ambient event detector based on a balanced scorecard approach. Journal on Advances in Life Sciences, 5 (3&4), 237-249.