Curriculum Vitae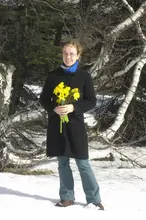 I studied General Linguistics, Philosophy and Logics in Pisa, Leipzig and Moscow, completing my studies with a Master's thesis on the tense and aspect system of Bezhta in 2007. From 2007 to 2011 I was a PhD student at the Max Planck Institute of Evolutionary Anthropology in Leipzig. I wrote my thesis "A grammar of Hinuq" under the supervision of Bernard Comrie. Hinuq is a small underdocumented and endangered language of the Tsezic subgroup of the Nakh-Daghestanian family. Since April 2011 I am employed as a full-time lecturer at the Chair of General Linguistics at the University of Bamberg.
My general research interests concern languages of the Caucasus (especially Nakh-Daghestanian languages), language documentation and description and various morphosyntactic topics (e.g. spatial case systems, non-canonical agent constructions, alignment, evidentiality).
Since 2005 I have conducted extensive linguistic fieldwork in Daghestan, mainly on Hinuq, Bezhta and Tsez, but also on other Nakh-Daghestanian languages.